Bienvenue!
Here you will find details for my online tutorials, art workshops and sketching holidays in the UK and France. These are for anyone who wants to learn, develop or improve their drawing, painting and observational skills.  Informal and delivered with plenty of humour, these workshops invite you to face your fear of imperfection, embrace the unknown, experiment with different techniques and materials, connect with a new community and find your own unique artistic style.
I love teaching, helping and inspiring people to live more creative lives.  As well as a web designer and exhibiting artist I am also a passionate sketcher, so you'll also see below how to join the growing Urban Sketchers Languedoc chapter in the south of France.
I look forward to meeting you!
Recent sketches, projects & demos
Online Workshops
Sold
Sold
Sold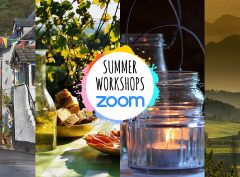 Sketchbook Notes
During this pandemic one of the things I have missed a great deal is sketching with friends. It's not just fun to spend time with like-minded people but it's inspiring too. Sharing time talking about our 'watercolour woes' and 'drawing … Read More
I went with very low expectations but a secret hope that I might actually be able to do this – Annette said everyone can draw – and she is right!! I did and I can!! Thank you Annette for giving me the confidence to just go for it . We were so lucky that we had a beautiful sunny day (and a fab lunch sitting outside ) Lagrasse is a fabulous location to sketch too.. Annette makes you feel totally at ease and it was lovely to go with 3 other fun lovely women too ! Looking forward to more classes please soon
Honor M - Lagrasse, November 2017
I commissioned Annette to paint portraits of my two dogs as a present for my husband – I was honestly overwhelmed at how she captured their personalities – totally over the moon and wouldn't hesitate to recommend her art and talent !
I thoroughly recommend Annette's informal courses. Great for beginners like me. I took art at school but that's where it stopped. Thanks for the encouragement Annette
I had a great week learning to sketch with Annette. As an absolute beginner I was a little uncertain and lacking confidence but Annette was super helpful and as the week went on I started to produce some art that I was actually quite proud of. The other students were great company and the whole week was thoroughly enjoyable. Highly recommended.
Paul W. ⭐️⭐️⭐️⭐️⭐️ - March 2020
Thanks so much for yesterday, it was very enlightening, and fun.
The tips are great and I'll refer to them as I hopefully continue my sketching. I look forward to doing another session with you.