I am lucky enough to have the Canal du Midi more or less on my doorstep. It meanders through the local countryside and I walk or sometimes cycle the tow paths regularly. There's something so relaxing about water, and the Canal in particular. Only 1m deep in places, the canal was engineered to be very level, so the water flows very very slowly. There are also areas where the overhanging trees form a sort of green umbrella, extremely welcome shade on a hot summer's day.
From the waterside, I have sketched le Canal many times. Sketching it from a boat, however, is another perspective entirely!
On a very warm day in June, I was joined aboard Bella Mia by a lovely couple from the USA, new to sketching but keen to learn! We set off from the port at Le Somail, making our way slowly past the Jonction where the canal splits and one section heads down towards Narbonne and the Mediterranean.
Jon's beautifully restored narrowboat has enough space inside as well as on deck for us to get started with our sketchbooks.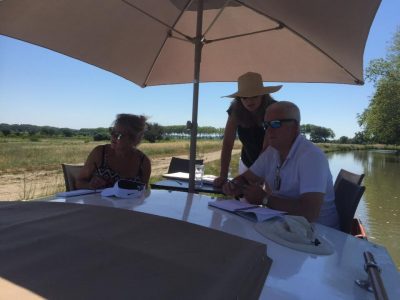 By lunchtime we are at the Port d'Argeliers. The restaurant here is perched by the bridge and well off the beaten track. A traditional 'menu du jour' is served, with several courses of freshly prepared food, and local wine of course!
Back to the boat we continue our sketches on the return cruise back to Le Somail. Sometimes all you can hear is the cicadas 'singing' in the trees overhead. It's magical. Memories are being made, and sketched, as we go.
Returning to shore and reflecting on the day, I was thrilled to receive some lovely photos and a note saying 'We so appreciate your kindness, patience and encouragement! You are awesome!'
If you would like a memorable, and extremely relaxing sketch day, this really is it! A Bella Mia cruise can start from various points along the Canal, so please contact me and we can arrange a workshop cruise on a date and at a location to suit you.